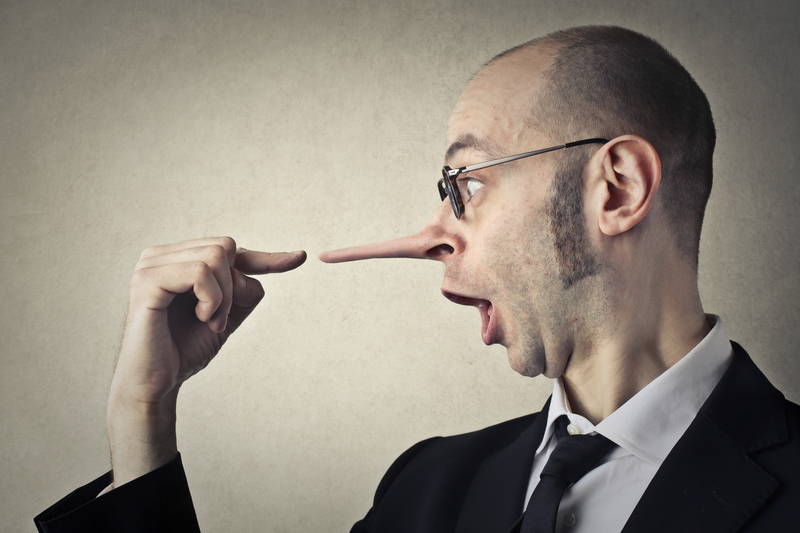 Surveys show that surveys never lie.
Pulitzer Prize-winning science journalist Natalie Angier
What does that mean? A liar would say that liars never lie as well — is she calling our surveys liars? That's not fair! Sure, maybe not all surveys are conducted in a manner scientific enough to produce accurate results, but ours are… aren't they?
If at this point, you have paused to wonder just how accurate your own online survey results are, congratulations. Being aware of the potential for mistakes, misinterpretations, and inaccuracies greatly reduces the chance of, well… all of the above.
If you haven't yet, keep reading. I'm going to suggest that maybe we should all — regardless of how experienced we are at conducting surveys — be prepared to admit we might have a problem.
Can Your Online Survey Results Be Trusted?
Have you heard of the book Lies and the Lying Liars Who Tell Them? In it, Al Franken takes apart the policies and press releases of Republican politicians and compares them to straight, uncontested facts, revealing the gap that exists between the stories we see and what's really happening.
Does that mean all Republican politicians are liars? Absolutely not. And the same goes for online survey results. If we took a sampling of online survey results and contacted the populations that were surveyed to get them, we might well find that many of the results accurately represented the views or experiences of the people they reported on. But we'd probably also find that a number of them didn't. That a few lying surveys painted one picture for us when something completely different was true.
But I'm not a liar! I'm just trying to measure an impact/define a need/make a programming decision!
Of course, you're not a liar. But that doesn't mean that your online survey results aren't.

How to Spot Lying Online Survey Results
So if not all online survey results are inaccurate, mistaken, or misrepresentative, how do we separate out the wheat from the chaff?
There are a few factors that can contribute to lying data:
The questions you ask (and how you ask them)

The tools you use to collect the data

The source of any external data used for analysis
The third point is really just a matter of other people's data lying instead of your own and highlights the importance of getting to know your data — creating a data biography is a great way to ensure any external data you include in your analysis is trustworthy. But the first two points are all you. So let's take a closer look at ways you can keep your online survey results on the straight and narrow, shall we?
The Questions You Ask
It's not enough to just rattle off a list of things you'd like to know and have your assistant turn that into a survey. Creating an online survey that will get you trustworthy results is a little bit of an art and an equal amount science. Things to consider when developing survey questions:
Are your questions clear and easy for respondents to understand?

Do your questions (or answers, if your survey is multiple choice) suggest in any way that one response is preferable to others?

Is there any chance your question will result in ambiguous answers?

Have you asked enough questions to fully understand respondents views or experience?
The Tools You Use
As I've said before, not all online survey tools are created equal. When choosing a tool to gather data from your community or program participants, it's important to select one that will provide you with the most accurate online survey results. What to look for?
A tool that is accessible to all of your potential respondents

Options for a range of question types, so you can ask questions that will produce answers in a useful format

Weighting.

Weighting

.

WEIGHTING

.
Weighting your survey results is the number one way to ensure they represent the perspective of your entire population, clearly and honestly. (I explained how Veracio uses weighting a while back, in case you want a quick refresher on how weighting makes online survey results better.)
Veracio: Honest Online Survey Results
It's not a coincidence that our name includes the Latin root for truth. We've spent years of watching our nonprofit and data journalism partners struggle with surveys that produced data that wasn't representative of the populations they were studying — and we built Veracio to fill the need we saw for something better.
If you'd like to try a free online tool that automatically weights survey responses using local census data, you're in the right place! Get started with Veracio now, or get in touch with us if you still have questions.
It wasn't because the men were that great, it was just all the stimulation their bodies had endured. Spicy Fatties Chubby Girl Plumper Thumbs BBW Hottie HQ Oldies Bbw Pictures Fatty Videos Jerk Room Mega Fat Older Kiss Women In Years Spicy Plumpers Granny Cinema Amazing Fat Chicks HQ Plumpers Deluxe Wifes My Plumpy Girls New Matures Spicy Older Women Heavy Cuties Chubby Mix Wild Fatties Touch My Melons Charming Matures My Sweet Fatty Fatty Thumbs Daily BBW Porn Mega Chubby Sexy Old Plumpers BBW Sex Outsize Booty Best Pics 4 You Big Tits Zone Bbw Pics Chubby Body Next Door Lust Graceful MILF Very Sexy Ladies AZ Gals Sexy Huge Girls Plumpkins TGP Banged Mamas Bbw Cheeks Magic Matures More Fatties Bbw Mix Nude Fat Pussy Fatty Babes Fat Bbw Sinful Blacks Charming Tits Charming MILFs Bottom Clips Brown Maids Tastys Pics Sexual Fatties Attractive Moms Graceful Mom Round Ass Pics Moms Ecstasy Granny Porn TV Alex Matures Big Sized Woman Chubby Gallery Hardcore Bbw Porn Als Fatties Fatty Erotica Bbw Porn Pics Amateurs BBW Sinful Pornstars Free Porn Videos Young Chubby Aged Mamas Fat Girls Most Bbw Lard Ass Girl Plumper Sex TGP The Fat Porn Chubby Sex Tgp Heavy BBW Tubby Chick Lard Golems Black Boobs Plumper Tgp Chubby Place The Chubby Da BBW Fat Sex Planet Big Fat Life Chubby Galls Only Fat Chiks Like MILF Big Women Pics Bbw Twat Fat Porn Chubby Porn Fat Film Chubby Arena Bbw Sensation Bbw Wanted Fuck BBW Fat Thick Women BBW Porn Zone Extra Huge Girls Young Fatties Big Size Sex Fat Porn Pictures Bbw Asses Banged Mamas.
Sommers and others [] have specifically questioned Mary Koss's oft-cited study that claimed 1 in 4 college women have been victims of rape, charging it overstated rape of women and downplayed the incidence of men being the victims of unwanted sex.
After the waiter pours the wine, she again puts her napkin in her lap. In law naked. Male celebrities, sounding not half naked women and take a fan of the austin peck actor baron geisler actor barry watson. She is impressed with the rate in which his song writing is improving. Bbw vs 2 bbcs Bitch fucking bbc White wendy ssbbw and bbc Bbw wife takes huge bbc in Lesbian.